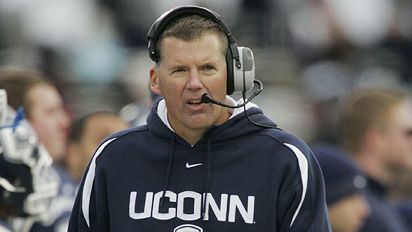 When you're the little guy on the block (Connecticut), and your coach has great success (BCS), it's inevitable that his name will come up in coaching vacancies. It's all part of the game. In the new age of digital news, rumors circulate and spread like wildfire on twitter. Some have substance, some are nonsense.
The most recent report, which appears to have some substance, comes from the Miami Herald, which states that Randy Edsall, Al Golden and Montreal Alouette (CFL) coach Marc Trestman, are all strongly being considered. It calls the three "leading candidates". I have no idea whether it's true or not, but Edsall's name does seem to be consistently mentioned with the Miami opening.
On Friday I conversed with Twitter friends and people over at the Boneyard (UConn's main message board) and most seem to agree that while Edsall's stock could technically get higher, it's awfully high right now. The iron is hot for Edsall, there's no question.
What about Miami, is it a good fit for Edsall? My first thought was no, but I'm going to upgrade my opinion to it's an okay fit. Miami almost recruits itself, so getting the players he needs would not be an issue. Furthermore, it's not as if the ACC is the SEC. When you can build a roster full of South Florida athletes, you are going to be in the hunt. Edsall might well be very successful there.
The Miami fan's interest has been waning in recent years, however, and I really question whether Edsall can energize the fan base. Gauging the fan's opinions on Edsall, I'd say most are hoping for a bigger splash. I've read a lot of, "we don't want three yards and cloud of dust" comments. Of course Miami AD Kirby Hocutt doesn't, and shouldn't, care what the fans are thinking, but Miami is having trouble getting butts in seats these days, and I believe they could use a bigger personality. The flipside to that argument is, if the next coach wins, the fans will return. True.
Should Edsall take the job? Truthfully, if I was Randy Edsall, I'd be strongly considering a move. He's 52 years old, his eldest child is graduating high school this year, and some would argue that he's taken the Connecticut program as far as it can go. There are certainly worse places you can end up than Coral Gables, that's for sure. A few years back, Rutgers' Head Coach Greg Schiano was offered the Miami position, and he turned it down. He was unable to sustain the level of success which got him the job offer, and now Rutgers has had back to back losing seasons in the Big East. That offer is long gone, which serves as a lesson for other coaches. Strike while the iron is hot.
If Edsall is interested in other jobs, he sure isn't acting like it. This past week Edsall was out on the recruiting trail, which included a visit to QB commit Mike Nebrich in Virginia. If you have one foot out the door, I don't believe you'd be out recruiting at the same time. Furthermore, I don't believe for a second that Edsall isn't going to coach this team in the Fiesta Bowl. He's worked too long and too hard for this, and to walk out before the game would be totally out of character. If Miami, or any other school, wants to fill the position immediately, Edsall might already be eliminated.
In the end, I don't believe he's going anywhere. There's no question that schools are interested, as they should be, but I just don't think he's leaving. He's got too much invested in the UConn program to walk out, unless it's a job he can't refuse. Miami is a job one could certainly refuse. Short of Notre Dame (that ship has sailed), Penn State (Joe Pa is coming back next year) or perhaps Michigan (I think they'll hire Harbaugh if they fire Richie Rod), I think Edsall is back.
No related posts.